In general
Our farm specialises in arable and cattle farming and is located some 100m from the public road at the Plassendale-Nieuwpoort Canal.

A stay at the Meeuwenoord farm combines the proximity of the sea (3kms) and all its attractions with the peace and charm of the countryside.

We offer 4 bedrooms with separate sanitary facilities. We named them after the seasons as life on a farm is strongly connected with the seasons. There is also a breakfast room, a kitchen, an inner garden, a terrace with a view of the orchard, a play area, an indoor playground and plenty of information on the region, the coast calendar and cultural events.

We give you a tour of the farm, or you can see the sights of our village Leffinge, as well as of Middelkerke, Ostend and the hinterland. We gladly provide information on walks and cycling routes. Exploring the region is certainly worth the effort.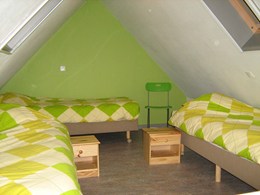 Practical information
Arrival: after 4pm
Departure: vacate room by 10am

Bed and breakfast:

Price: € 55 per person per night.

children < 2 yrs: € 5.00
< 10yrs: € 30.00
Surplus for single occupancy: + € 10.00
Surplus for 1 night: + € 10.00

Advance of 50% serves as reservation

Kitchen available depending on arrangement (e.g. long stay, groups)

Account number: 103-0161278-35
IBAN: BE 57103016127835
BIC Code: NICABEBB
VAT No: BE 871 359 215